Keep in Touch
mykoreakr@naver.com

Thailand Headquarters
PIPL2 Co., Ltd.
Add. 1140 Onnut Road, Onnut, Bangkok Thailand, 10250


New York Headquarters
Bedford Hills C&T corp.
Add. 207-06 33rd AVENUE Bayside NY
11361

Seocho Youth Center promotes customized youth projects for young people in Seocho-gu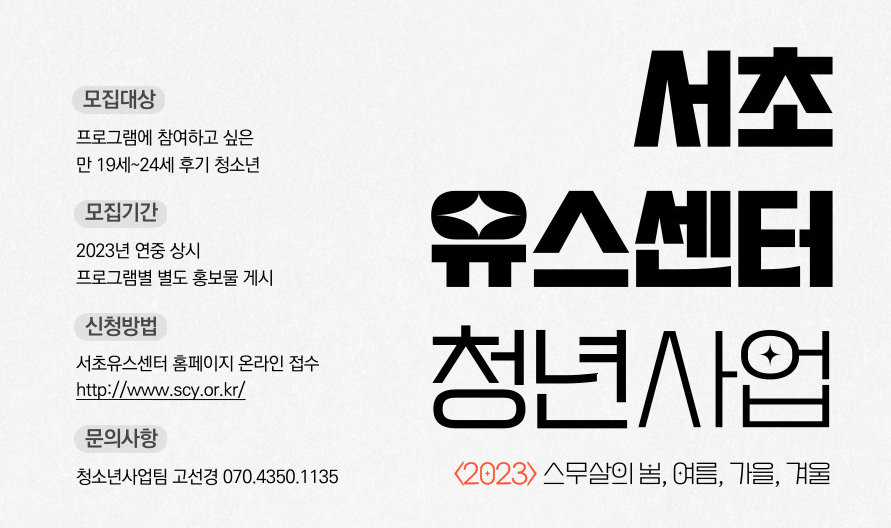 Seocho Youth Center (hereinafter referred to as the center) will promote "for young people" projects such as college student external activity clubs, youth academies, youth financial technology special lectures, and media art project mapping programs to help local youth and young people grow stably and step by step.
The Youth Academy, which began in April this year, supports various activities such as creator training courses, personal branding, and promotional marketing to develop the capabilities of late adolescents and young people. Currently, handcraft lectures are being conducted for youth craft branding in Seocho-gu through craft creation and pilot operation of employment and start-up, and the in-depth process of "turning crafts" (aged 19 to 34 years old) is recruited through online application on the Seocho Youth Center website.
Seocho Youth Center plans to organize various programs to help young people meet anytime, anywhere, such as support for youth employment and start-ups through programs, special financial technology projects for young people's economic independence, career exploration and self-development projects through autonomous activities, youth capacity building projects.
※source : 'PeopleTV' https://peopletv.co.kr/2482