Gyeongsangbuk-do accelerates expansion of exchange and cooperation with Ho Chi Minh in Vietnam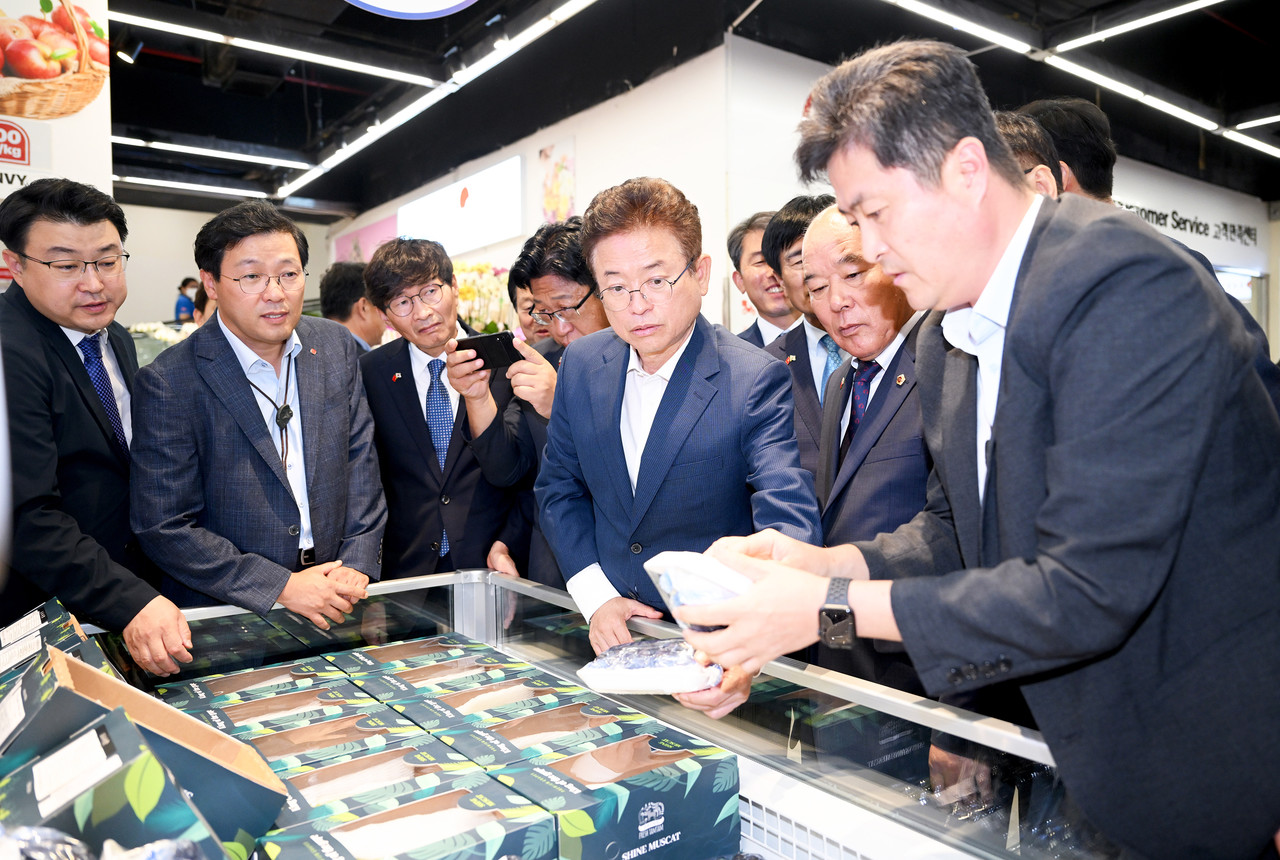 Gyeongsangbuk-do delegation led by Gyeongsangbuk-do Governor Lee Cheol-woo met with the mayor of Ho Chi Minh at the 30th anniversary of the establishment of diplomatic ties between Korea and Vietnam in Ho Chi Minh City, Vietnam on October 28 and 29, Gyeongbuk Day event, visits to companies entering the country, traders and exports It is accelerating the expansion of cultural and trade exchanges, such as holding meetings with the heads of relevant organizations.

Governor Lee Cheol-woo visited K-Market, a Korean food distribution store, and started the local schedule by promoting the export of Gyeongbuk special products and fruits with K-Market Chairman Koh Sang-goo at a permanent store of excellent agricultural and fishery products in Gyeongsangbuk-do.

Subsequently, at Nam Saigon, Vietnam's first Lotte Mart store, a promotion and promotion event for excellent agricultural food in Gyeongbuk (4 items, 10 varieties, including apples, pears, and grapes) was held in Gyeongbuk Province and Vietnam Lotte Mart (15) to expand exports to Vietnam, the largest market in Southeast Asia. A business agreement was signed between stores).

In the afternoon of that day, I visited Daeyoung Vina, a local subsidiary of Daeyoung Electronics (Gyeongsan), which entered Ho Chi Minh City as a primary partner of Samsung Electronics. About 1,200 employees work in this company, and it supplies various electrical and electronic components necessary for the electronic products of Seomsung Electronics.

In the evening, during a meeting with the mayor of Ho Chi Minh prior to the ceremony to commemorate the 30th anniversary of diplomatic relations between Korea and Vietnam, Governor Lee Cheol-woo said, "Through the Ho Chi Minh Gyeongju World Culture Expo held in 2017 to commemorate the 25th anniversary of diplomatic relations between Korea and Vietnam, both regions were It has grown into a more difficult relationship, and I am confident that it will grow into a new partnership on the 30th anniversary of diplomatic ties between Korea and Vietnam."

On the next day, on the 29th, at the Gyeongbuk Day event, there was a performance event by the Gyeongbuk Provincial Dance Company and a place to showcase excellent local products such as apple soju (Uiseong), black garlic products (Uiseong), and aloe products (Cheongsong).

Governor Lee Cheol-woo said, "Vietnam is a country of in-laws and a destiny community in a ship, and it has emerged as a Hallyu-oriented country in Southeast Asia and a new partner in trade and investment. In particular, it is Korea's three largest trading partners (US$80.7 billion, 2021) and the No. 1 investment in Vietnam (US$80 billion, 2022).