Strawberries for export opened the way to export exclusive aircraft to 8 cities in Southeast Asia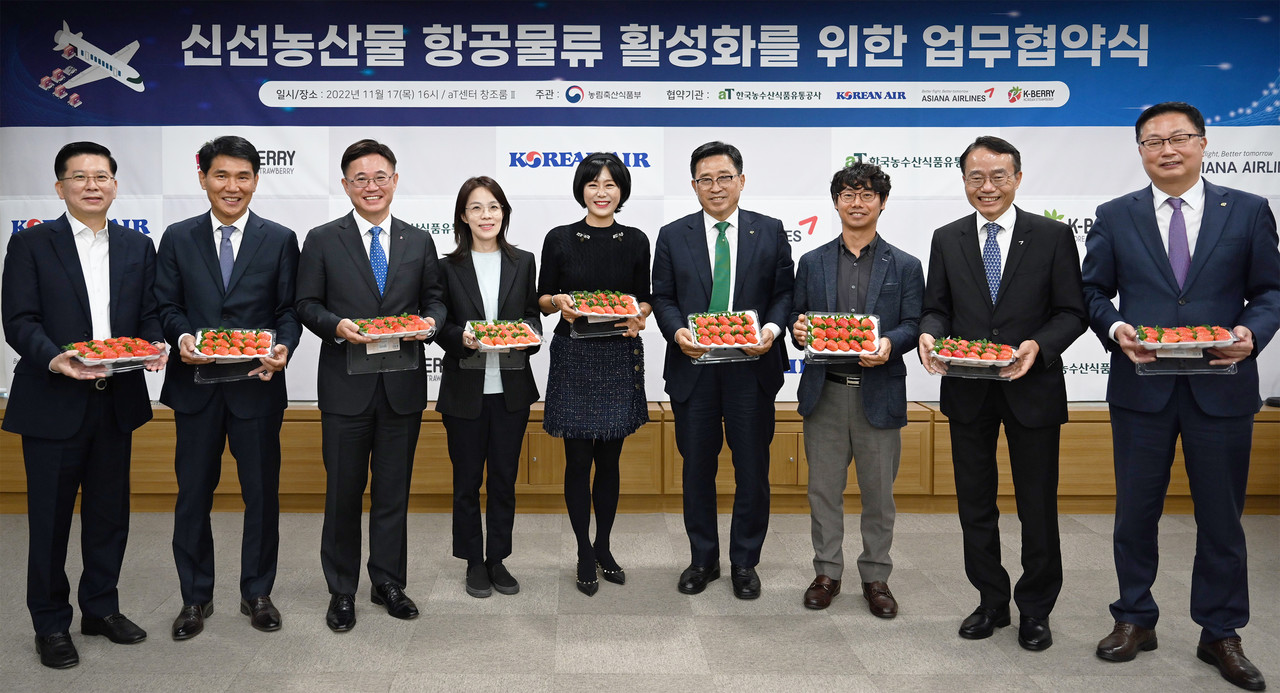 The Ministry of Agriculture, Food and Rural Affairs (Minister Jeong Hwang-geun) and Korea Agro-Fisheries & Food Trade Corporation (CEO Kim Chun-jin) cooperated with K-BERRY Co., Ltd., an integrated strawberry export organization, and Korean Air and Asiana Airlines, national airlines, to support air logistics of strawberries at the Seoul aT Center on the 17th. An export-only aircraft business agreement was signed.

Strawberries have a short shelf life due to the nature of the item, so 99% of exports are absolutely dependent on air transportation to maintain freshness. Despite the recent gradual easing of COVID-19 quarantine measures, normalization of logistics, such as the recovery of aircraft operation rates, has been slow, and since most of strawberry exports are concentrated in Southeast Asian countries, it is more important than anything else to create a logistics environment that needs to stably secure shipping space.

In response, the Ministry of Agriculture and Food and Rural Affairs and aT decided to sign a business agreement with K-BERRY, Korea Air, and Asiana Airlines to promote fresh agricultural air logistics and support air logistics for strawberry exports.

In particular, this agreement drastically expanded the operating airlines, support period, and support countries for strawberry export aircraft operated from 2020. In the past, Korean Air operated the strawberry main export period from December to April of the following year for only five months, but this time Asiana Airlines participated and extended it by two months from November when the initial strawberry export volume is produced to May of the following year. support for months.

In addition, the number of routes operated was significantly expanded from two routes in Hong Kong and Singapore to a total of eight routes by adding six routes to Bangkok, Hanoi, Ho Chi Minh City, Jakarta, Kuala Lumpur, and Manila. In particular, the eight routes expanded this time account for 97% of the total export volume of strawberries in 2021, in effect opening support for all sky routes where Korean strawberries are exported.

Above all, in this business agreement, Korean Air and Asiana Airlines, the national airlines, offered fares that were cheaper than market fares based on mutual understanding and cooperation. is expressing gratitude to The Ministry of Agriculture, Food and Rural Affairs and the Corporation will support the use of strawberry-only planes, and K-BERRY Co., Ltd. plans to supply high-quality strawberries to raise the status of Korean strawberries in the world.