K-Food Craze Explodes In Popularity At Middle East's Biggest Food Fair
Dubai International Food Fair Completed…Popular foods such as pears, grapes, and rice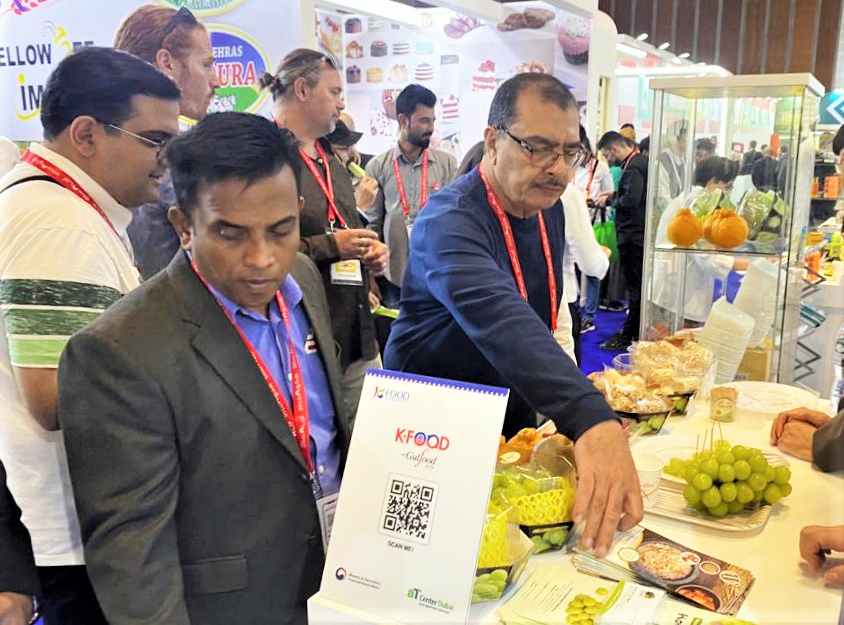 The Ministry of Agriculture, Food and Rural Affairs (Minister Jeong Sang-geun) and the Korea Agro-Fisheries & Food Trade Corporation (CEO Kim Chun-jin) participated in the 2023 Dubai International Food Fair (GULFOOD 2023) held in Dubai, United Arab Emirates from 20th to 24th to promote the excellence of K-food.
GULFOOD is the largest food fair in the Middle East held every year in Dubai, and is a representative international fair involving more than 4,000 companies from 120 countries, including Saudi Arabia, Kuwait, Oman, and Bahrain, as well as the United Arab Emirates.
Twenty-four K-food exporters nationwide and two companies dispatched from Gyeongsangbuk-do formed the Korean Pavilion, and presented a variety of health foods such as ginseng and red ginseng, organic rice snacks, and canned kimchi in line with the latest trend in the Middle East, where preference for health functional foods and convenience foods has increased since COVID-19.
At the site, the sweet and crunchy texture of domestic pears and the high sugar content of grapes captivated the tastes of local buyers, and in particular, pears led to the signing of on-site MOU for export. In addition, locals showed great interest in the citron tea tasting held at the K-Food Promotion Center, praising the sweet and sour taste and aroma.
Amith Mansoor, CEO of AGSS, a food distributor in the United Arab Emirates, said, "The recent popularity of K-dramas and K-pop has made Korean food and various cultures popular in the region. In particular, interest and demand for K-food, such as tteokbokki, red ginseng, kimchi, and ramen, are increasing."
"GULFOOD is the largest food fair in the Middle East in the United Arab Emirates, so it was a good opportunity to inform local buyers of the excellence and health of K-food," said Ki Noh-sun, director of export food. "We will spare no marketing support to expand the base of K-food consumption in the Middle East market in the future."
<This article was written in Korean and translated into English. Therefore, I would like to inform you that the fact is in the original Korean article.>
※source : 'NewsK' https://newsk.co.kr/1621