Park Sung-jin, CEO of World K-Pop Center, hosts a live broadcast with Mongolia's largest influencer
Gundarai, one of the most popular politicians in Mongolia, is being prevented
Targeting 830,000 followers, attempting to maximize publicity by hosting live on-site broadcasts
▲Courtesy of World K-PopCenter
A special occasion has been set up to raise awareness of the World K-Pop Center (CEO Park Sung-jin) in Mongolia and promote its future strategy.
Park Sung-jin, CEO of the World K-Pop Center, visited Mongolia's most famous influencer (830,000 Facebook followers) in his office on the 16th and conducted a live broadcast on the spot.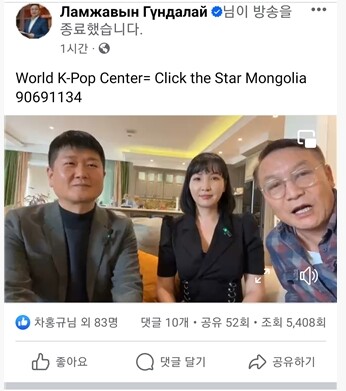 ▲Facebook
Interestingly, the influencer known to the Mongolian public is not a celebrity, but a popular politician.
It is none other than Mongolia's former lawmaker Lamjav Gundalai (60 years old).
Gundarai is known as Mongolia's most popular pro-Western politician and "Democratic Godfather" as he served as the Minister of Health and Welfare and the Minister of Land during the Democratic Party's reign as a four-term lawmaker of the conservative Democratic Party (currently the main opposition party).
Currently, it is striving to realize its political ambitions while doing real estate and health care (mainly vaccines and cosmetics) business.
Park Sung-jin, CEO of the World K-Pop Center, who is dreaming of entering Mongolia in earnest, and Uyanga, CEO of the Mongolian Idol Academy, who is in charge of contacting Mongolia, held a live broadcast with former lawmaker Gundarai on the "Blink1 (Bring1) Project Plan and Mongolian M-pop Plan" for Mongolian netizens, along with an explanation of the "Intention and Strategy to Enter Mongolia in World K-Pop Center."
The meeting was arranged by Lee Sang-ki, vice president of the World Children's Taekwondo Federation, who has maintained a steady relationship with Mongolia while serving as a military officer (Mongolia adjunct) at the Korean Embassy in China twice since diplomatic relations between Korea and Mongolia.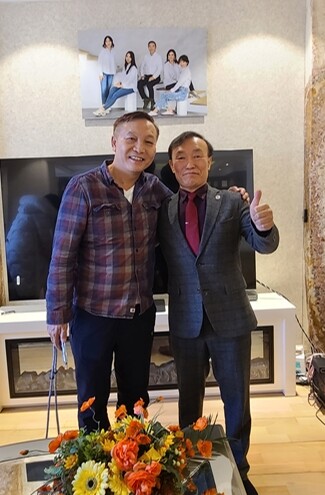 ▲Courtesy of World K-Pop Center
Vice President Lee Sang-ki, who has been in close relationship with former lawmaker Gundarai for 30 years, fell in love with Genghis Khan research and published a book called Genghis Khan Charm and Horsepower.
Meanwhile, former lawmaker Gundarai has Hobbsgol as his district, and plans to challenge the fifth-term lawmaker in Mongolia's general election in May next year.